Learn About Roussis Reptiles
LEARN ABOUT ROUSSIS REPTILES
Roussis Reptiles has successfully reproduced healthy rare ball python snakes in various beautiful and rare morphs and morph combinations, as well as Blood Pythons, Hybrid Pythons, and Blue Tongue Skinks since 1994. In fact, this success is the result of our extensive experience. and utmost care of our animals. This also allows us to provide you with the best wholesale reptiles shopping experience possible. Through our experience and determination for these magnificent animals, we have become the pioneers of many of the heavyweight ball python combinations seen on the market today.
In addition, besides offering our customers some of the rarest morphs on the market, we have also made information regarding aspects such as our choice of housing our rare ball pythons, or even the proper diet for one of our blue tongue skinks, readily available for your use.  To view these helpful links, just click the link here to visit our educational page!
LEARN ABOUT ROUSSIS REPTILES – PRESENTING THE RARE MORPHS
Roussis Reptiles was the first to bring you exciting hybrid pythons and morph combinations such as:
Pinstripe Ghost Clown Pied 2017
Frost Pied 2017
Ghost Clown Pied 2017
Pinto Albino Pied 2017
Super Pastel Clown Pied 2016
Super Pastel Firefly Pied 2016
Banana Pastel Pinstripe Pied 2016
Super Pastel Pinto Pied 2016
Pastel Banana Lavender Albino 2016
Enchi Mojave Orange Ghost
Pastel Spider 2014
Fire Granite Pinstripe 2014
Leopard Mojave Pied 2014
Banana Mojave Pied 2014
Spinner Pied 2013
Pastel Candino Black Pastel 2014
Albino Mojave Pied 2014
Candino Pied 2012
Leucistic Albino Pied 2012
Pastel Pinto Pied 2012
Candino Pinstripe 2012
Super Pastel Pied 2008
Pastel Pied 2005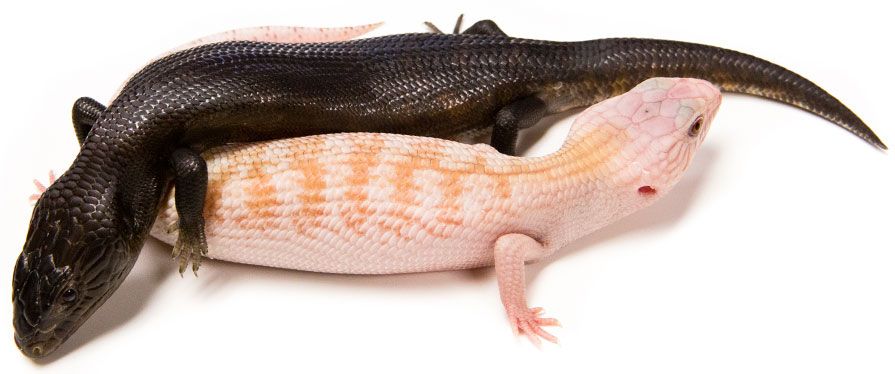 LEARN MORE ABOUT ROUSSIS REPTILES -PIONEERS OF RARE MORPHS
As specialists of Piebald and other recessive morph combinations, we have built the largest collection of piebald morphs in the world through our breeding programs. Besides this extensive collection, we continue to develop double, triple, and quadruple recessive gene combinations. Because of this, we have become pioneers of rare ball python morphs. However, we have not stopped with just exciting new morphs!
For example, while exploring new territories in designer snake genetics, Roussis Reptiles has completed extensive work covering the hybridization of Ball Python x Blood Python – the "Superball". What's more, through such extensive effort and research, our work also allowed us to be the first to successfully produce second generation offspring, such as the F2 Superball and the Mongrel, and incorporating morphs into the combinations such as the "Area 51 "line of hybrids.
NEW EDITIONS
Besides our accomplishments in rare ball python and blood python morphs and hybrids, we are very proud and excited to have developed through our own captive breeding program a colony of rare and unique variations in Blue Tongue Skinks. Our collection includes both Tiliqua S. Scincoides "Eastern Blue Tongue Skinks", Tiliqua Scincoides Intermedia "Northern Blue Tongue Skinks" and Tiliqua Gigas "Indonesian Blue Tongue Skink." In addition, we have been successful in the reproduction of this amazing lizard in morphs such as Melanistic, Ivory, Caramel Albino, Patternless and Hypo morphs.
OUR MISSION
Our company began during the emergence of the ball python's popularity in the early 1990's and is operated by Steve Roussis, an owner with a very "hands on" approach. This approach gives Roussis Reptiles the unique ability to maintain its personal touch and impeccably high standards both in animals and customer service with wholesale reptiles. Furthermore, when you buy from Roussis Reptiles, you can expect professional, honest service and only the highest quality reptiles. Our animals and services continue to enjoy a proven track record that is unsurpassed.
Equally important to our impeccable customer service Health and Quality are our #1 priority. First and foremost, we are fanatical about hygiene and cleanliness protocols – especially when it comes to disease prevention. You can always feel confident that you are purchasing only the healthiest and highest quality animals from a name you can trust. Never do we risk the health of our animals. So, rest assured we take every precaution to make sure our stock remains free of all disease and parasites. All of our animals are housed separately in our own custom designed reptile racks and at our state-of-the-art facility, and all cages are kept in pristine condition by being routinely cleaned and disinfected on a daily basis.
Health and Nutrition
Besides ensuring every enclosure is kept in pristine, sterile conditions, the health of our animals begins with nutrition.  For example, all live food offered to the animals are bred right here at our own facility so we can be certain that our food source is as healthy as possible.
CUSTOMER CARE
Roussis Reptiles has thousands of satisfied customers around the world, ranging from professional breeders and resellers to the sophisticated collector.
As a result, whatever your needs may be, we are confident you will be 100% satisfied.